F
ifty Shades of Grey inspired interiors for you to enjoy! We know that this book has taken off like wildfire selling over 40 million copies worldwide and taking the top place position for best seller's lists around the world. It has also broken the record for being the fastest selling paperback of all time - this beating out the Harry Potter series.
So how does this have anything to do with decorating or home staging? Well, we thought we would put together interiors or DIY projects encompassing the colour grey!
http://tinyurl.com/c3qs6ga
This is a space that is mainly a monochromatic scheme. You can see a few different shades of grey with some warm hints of natural colours found in the pillows. Using varying sizes of picture frames on the bookshelf, is more engaging than just having frames of all one size. This way draws the eye of the viewer to the shelf and provides more interest and engages the viewer more.
http://tinyurl.com/cqncv6n
This shows a colour combination that uses varying grey's in it. The brown is a good neutral and it helps to warm the space given that the grey's are more of a cooler tone. Keep in mind that when using this colour scheme, that the brown doesn't just mean paint colour. It can also be a furniture colour or floor colour as well!
To make your own colour scheme, you can do something as simple as this one and take a photograph or use one that you already have and love and scan it or upload it onto your computer and (either in a paint program or in photoshop) and use the eye dropper tool and draw out colours that you love.
We can help you!
If you want, send them to use by emailing them to us and we can pick out a colour combination for you!
Our email address is
design2@live.ca
Let us know if there are certain colours you don't like or any other specifics that are important to know and tell us the style of the room, what direction it faces, if it receives a lot of light or not and what the room would be used for. We would love to help you!!
Back to being inspired!!!!
http://tinyurl.com/cyge3j4
I love this punch of colour in this space, contrasting the sophisticated grey! Also, don't be afraid to mix different patterns in a space. As you can see, both stripes and circles were used here. They went all out with opposites here!! If you are mixing patterns, its always a good idea to mix up different scales of patterns so the spaces has some dimension and doesn't appear cluttered or too busy to the eye.
http://tinyurl.com/cyge3j4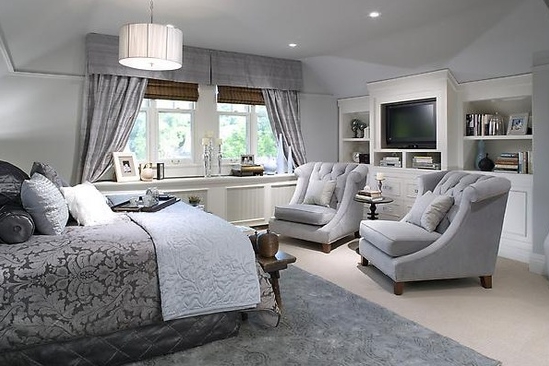 http://tinyurl.com/czq8bn3
We hope you enjoyed our finds!